Intro
We are one of the leading orthopaedic manufacturers. Our orthoses and braces are in demand worldwide. Our company headquarters are in Rosenheim in Upper Bavaria. From there, we develop products for a better life for our patients.
History
Our success story
Many years of experience
Our current management founded the company in 2001 still under the name Ortholutions. We have been manufacturing orthopaedic products and offering services in this field for over 20 years.
Expertise in the field of scoliosis
The development of the RSC Brace and the associated Scoliosis Treatment System took place shortly after the foundation. Over the years, we have built up a great deal of expertise in the field of scoliosis, from which we still benefit today.
Customised manufacturing
With the acquisition of our 7-axis milling robot and the additional area of orthopaedic design, we have been able to offer the individual and high-precision production of orthopaedic products with thermoplastics since 2015.
Forward-looking product development
In 2020, we have once again strengthened our product development and added the area of additive manufacturing and 3D printing. With new experts and innovative ideas, we are developing more products for a better life.
neja
Since 2023, we have been calling ourselves neja and appearing with a refreshed image. This underlines our unique orientation and gives the dusty character of the orthopaedic industry a new, positive face.
Team
The people behind neja
We are an owner-managed company and work together for a better life for our patients. To do this, we need not only expertise and specialist knowledge, but also good team cohesion. That's why we place just as much value on openness, authenticity and commitment as we do on the quality of our products.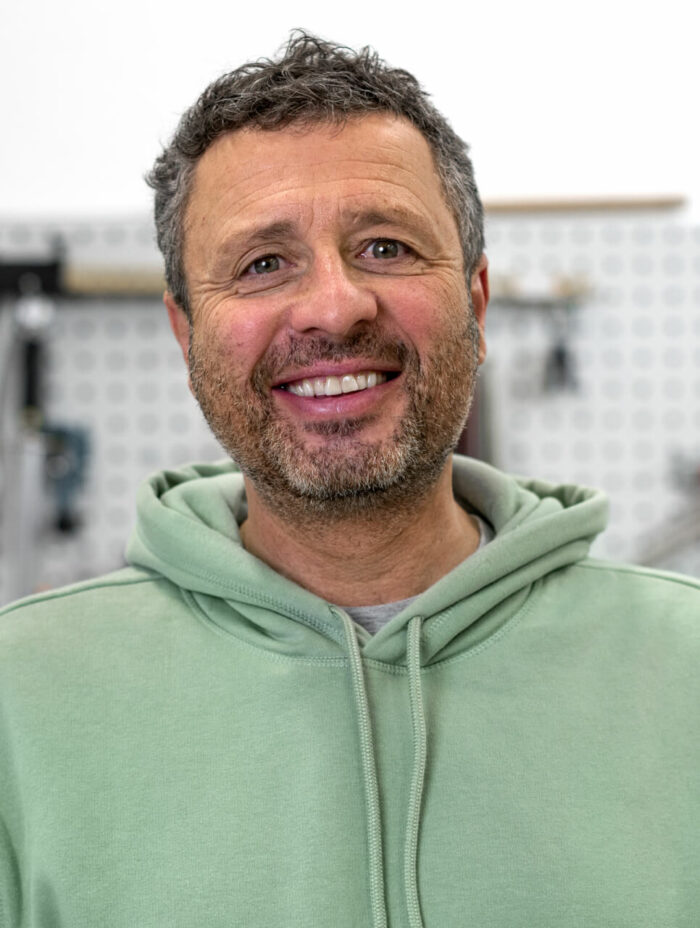 Dino Gallo
Dino is the founder and managing director of neja. He is responsible for product development and himself adapts the products to the patient at the check-up appointments.
Jenny Schmid
Jenny is the founder and managing director of neja. As entrepreneurial manager, she is not only responsible for invoice processing, but also maintains close contact with suppliers, the experts and patients.
Feedback
The sound basic knowledge and craftsmanship is nevertheless required of the system. Both the measures and fittings as well as delivery and readjustments require craftsmanship and technical knowledge on the part of the users. I particularly like the fact that all the people involved exchange information on the same level in order to achieve the maximum fitting goal.
Stephan Schildhauer, Managing Director of Paul Schulze GmbH
I can highly recommend neja because they provide a high quality and professional service, have an advanced system and most importantly, offer a brace that gives the best results for the patient.
Avital Pinhas, CPO of Taygon Medical
Contact
Contact us for a non-binding initial consultation. We will advise you on your way to a better life. If, in rare cases, we are unable to help you directly, we will be happy to recommend one of our many partners worldwide.